The Boston Bruins have won over 120 awards internationally and six Stanley Cups. Alumni of the Bruins came together to create the non-profit, The Boston Bruins Alumni. The alumni attend fundraising and charity events to help raise money for other non-profit causes. They host skating sessions, shows, and (friendly) hockey games. Some of the former Bruins who participate in these events are former Bruins captains Rick Middleton, Terry O'Reilly and Raymond Bourque.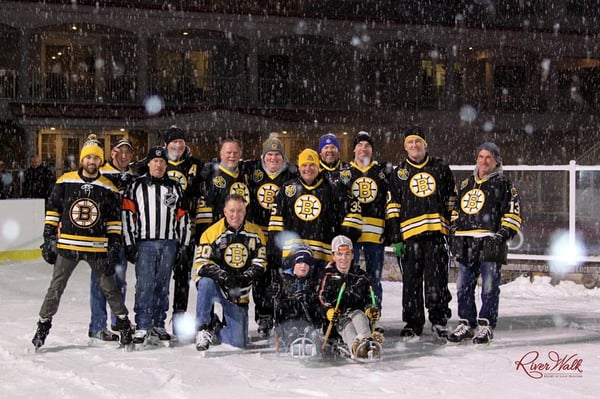 RiverWalk Resort runs charity events year-round to help support local and national non-profits. For some of these events, we've worked with The Boston Bruins Alumni to host events on our winter ice rink. Pictured above is from the "Skate with the Bruins" event that benefitted the New England Disabled Sports fundraiser. People who bought tickets for this event were able to skate with the alumni and mingle at a cocktail reception that followed. All of the profit from the event went to support NEDS.
We regularly host events year round for non-profits. Be close to the entertainment and reserve a suite in advance to make a weekend of it! Our suites book quickly during big events, so be a step ahead of everyone else and reserve your suite now.
RiverWalk Resort is a luxury condo resort that offers opportunities for condo ownership. Owners enjoy perks such as premium benefits at every event in the owner's club and throughout the resort. Learn more about ownership at RiverWalk and how you can become an owner with fractional real estate.